Once upon a time, I lived through a fairytale wedding and all of my wildest dreams came true. I felt like a beautiful princess on my big day and if I could, would relive that day again and again.
The next day, day 2 of our wedding, in a different dress than I had originally planned (since I didn't expect it to be so freakin' hot in my 6 layered wedding gown and
insisted
on wearing my day 2 dress by midnight at the reception) I felt
completely
overdressed (not to mention high maintenance) being at our garden party and around Tomislav's 92 year old Grandma with my va va
voom
fake eyelashed look.
Luckily, I had my amazing girlfriends there ready to save the day and provide insight into how to remove said falsies!
They're still on both eyes at this point, at least some of them.


That night, I realized I cannot go on having fake eyelashes to go pay all our vendors (in normal clothes) and then to travel in my comfy clothes down to the seaside with all our friends and family. I tried
everything
to get them off, soap, lotions, olive oil...my Mom was ripping her own fake eyelashes out at this point but when I was trying, so many of my real ones were coming out. I sent out so many texts (some angry) to my dear hairdresser and make-up artist about how I couldn't get the bloody things off!
"Well," I kept thinking, "at least we're married now. For better or for worse, with our without eyelashes!" This led to lots of googling about whether eyelashes grow back and asking begging T-Slav to reassure me that he'd still love me if I was eyelash-less. I got most of the fake ones (and
many
of my real ones) off that night, but only off of
one
eye and that was after over an hour of serious
hard
work. I was mega exhausted and pretty delirious, plus I knew we had an extremely busy morning ahead of us, so I just went to bed. With one eye full of falsies and one without.
Sexy
wife. And aren't you lucky that I'm gonna show you
just
how great I looked:
This is what I looked like to pay all of our vendors, day 3 with the eyelashes. Still didn't feel quite like myself yet. Blasted eyelashes! They were glued ONTO my real ones! Luckily, they made my winking habit so much more fun (and creepy).
I bought a bottle of eye make-up remover and along the 8 hour drive to Dubrovnik, soaked my eyeballs with it until they were burning and stinging and kept showing my 6 year old cousin the eyelashes chunks whenever I was able to manage them out. He wasn't scared or grossed out, right? ;) Sorry Filip! You know I love you!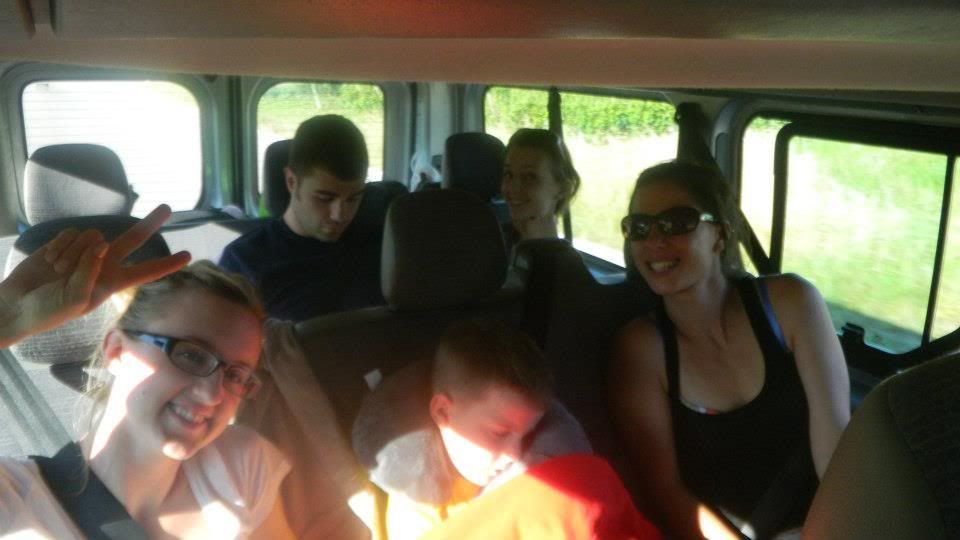 Well ok, I won't blame him if he
was
scared of me, but since he's my cousin from my wild family, has 2 crazy ass amazing older brothers, AND he's Polish, I'm sure he'll be alright!
Have you ever had a beauty mishap like mine?!
Do you know how to get fake eyelashes off?